In the bright Wembley sunshine, Chelsea faced Manchester United in the FA Cup final, 6 years to the day since the Champions League triumph. The stage was set once Rio Ferdinand and Frank Lampard brought out the trophy shortly before the ceremony.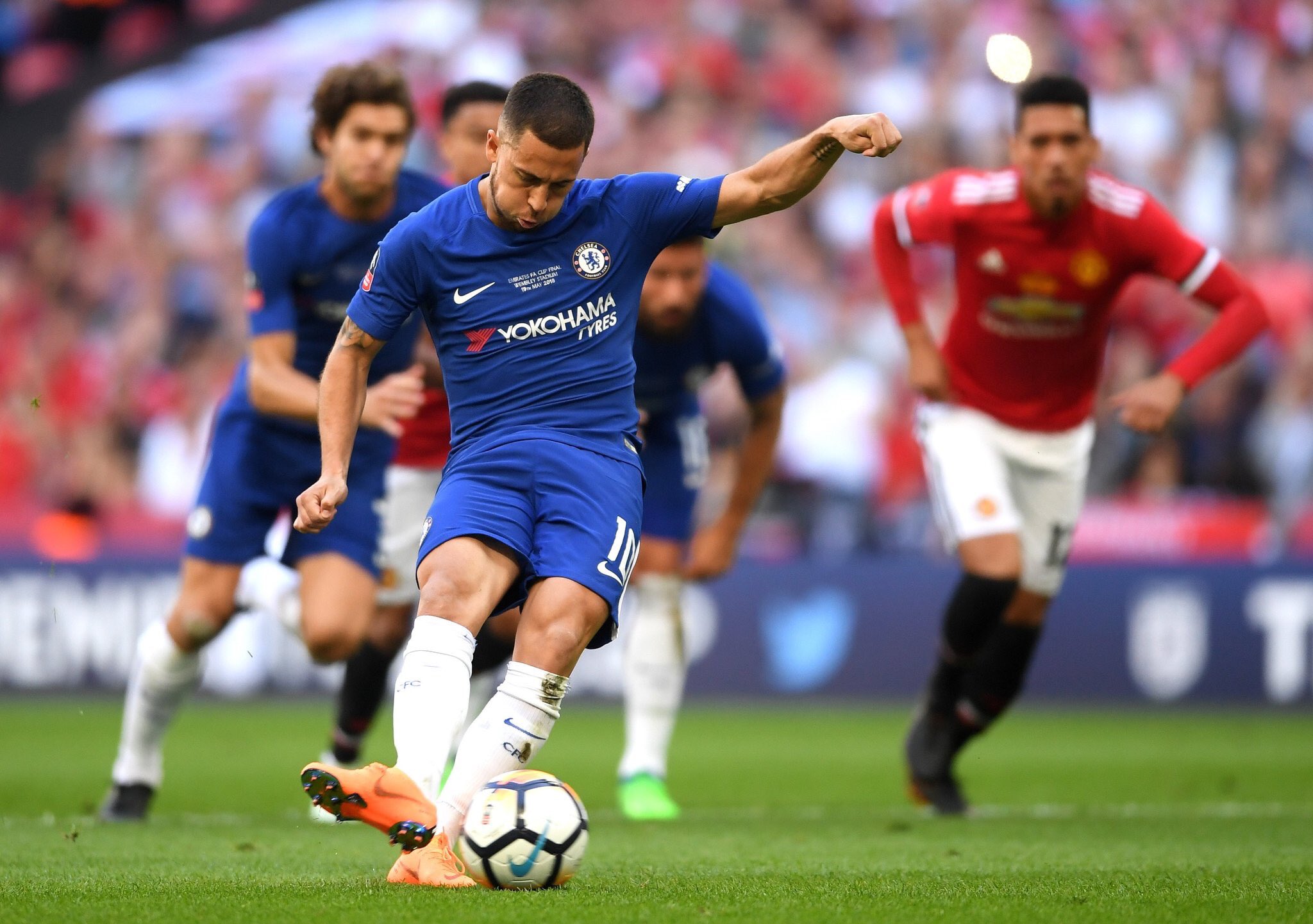 After the formalities, it was Manchester United to get the game underway. After a quiet 20 minutes, Eden Hazard soon raced through on goal only to be brought down by Phil Jones around 8 yards from goal. Phil Jones should be sent off, nonetheless, Eden Hazard sends De Gea the wrong way before tapping the badge in celebration, the perfect start.
Bar a header from Phil Jones going narrowly wide it was a quiet end to the half and after just a single additional minute Micheal Oliver blew the halftime while. Despite 37% possession the team that Alan Shearer labelled "hopeless" was Manchester United. It was a fantastic first half for Chelsea and particularly Eden Hazard while in contrast Pogba and Rashford were near non-existent for Manchester United.
Chelsea kicked off the second half as Chelsea attacked the end of our fans. The beginning of the second half was all too similar, we were sitting back inviting pressure onto us or as Conte would say "suffering without the ball". Around the hour mark, United had the ball in the net but Sanchez was ruled offside after a fantastic save from Courtois but not a sniff from Chelsea in the second half.
Despite this N'golo Kante raced forward to set up Alonso only for him to delay a shot which was saved by De Gea, however, in the aftermath, there were huge shouts for a Chelsea penalty however it was only a corner despite the deliberate movement of Ashley Young's arm towards the ball. Shortly after Rashford had a great chance to make it 1-1 but a smart save from Courtois stopped it.
Going into the final 15 we are yet to make a change and it was all United. As the minutes passed there was still no sign of a Chelsea change, 85 in and Manchester United make their final change. On 88 minutes Conte ops for a switch up front with Morata replacing Giroud. Our second sub comes a minute later with my Man of the Match Eden Hazard being replaced by Willian.
5 additional minutes… two minutes in and we've kept the ball where we need it, a tense finale, however. Matic heads over from inside 10 the Chelsea box, time is ticking. Shortly after Rudiger is announced Man of the Match on the tannoy, Courtois is booked for timewasting. Chelsea keep the ball where it's needed and end up with a corner before Michael Oliver blows the whistle and 'One Step Beyond' rings around Wembley, Madness.